Effectiveness working group meeting - Oslo 2016
Effectiveness working group meeting
10:00-16:00 (local time) Wednesday 11 May in Oslo, Norway
Location : Helsetilsynet (The Norwegian Board of Health Supervision), Calmeyers gate 1 
Participants : Riitta Aejmelaeus-Chair: (FI), Hanna Ahonen (FI), Einar Hovlid- host (NOR), Geir-Sverre Braut (NOR), Ian Leistikow (NL), Ester Deursen (NL), Klas Öberg (SWE), Lena Weilandt (SWE), Anna Beckett (UK), Emily Hutchison (UK), Lena Graversen (DK) , Jooske Vos, Mari Murel (EPSO)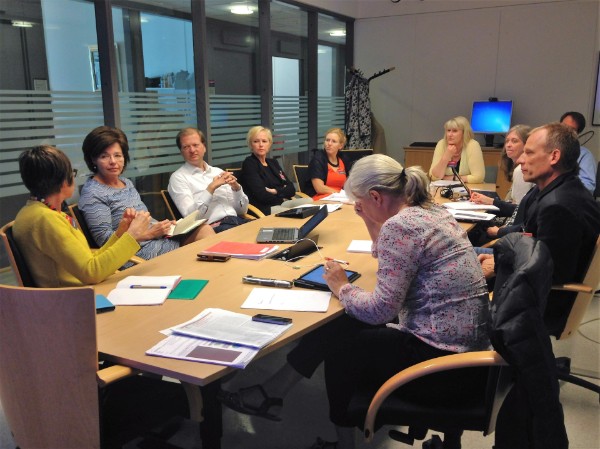 10:00-16:00 Presenting and discussing the cases from the various countries. 
 Riitta (Aejmelaeus) will chair the meeting and has asked, considering the cases, to prepare:
A short analysis of the problem in your country;
A description of the method/methods chosen to solve the problem;
A description of the results(if results are available): what was effective, what was not effective?;
Questions to discuss or to answer by the working group.
10:00-10:20 Norway, Einar Hovlid, The Norwegian Board of Health Supervision (Helsetilsynet)
10:20-10:40 The Netherlands, Ian Leistikow, Dutch Health Inspectorate (IGZ) will talk about 'Learning from incidents in healthcare' – please read the enclosed article to be well prepared for the discussion.
10:40-11:00 Sweden, Klas Öberg, Lena Weilandt, Health and Social Care Inspectorate (IVO)
11:00-11:20 Denmark, Lena Graversen, Danish Patient Safety Authority (Styrelsen for Patientsikkerhed)
11:20-12:30 Lunch
12:30-12:50 The Netherlands, Ester Deursen, Dutch Inspectorate for Youth Care (Jeugdzorg)
12:50-13:10 England, Anna Beckett, Emily Hutchison, Care Quality Commission (CQC)
13:10-13:30 Finland, Riitta Aejmelaeus, Hanna Ahonen, The National Supervisory Authority for Welfare and Health (Valvira)
13:30-16:00 Discussion about the cases and the proposed solutions.
Next working group meeting will be held as pre-conference meeting at EPSO 22nd conference on 28th September, 2016 in Stockholm.